My client uses Microsoft Office Communicator 2007 R2 for instant communication on the corporate LAN. It's great for quick messages, screen sharing, it even integrates with the phone system. But when someone sends me a link, it's currently configured to do this...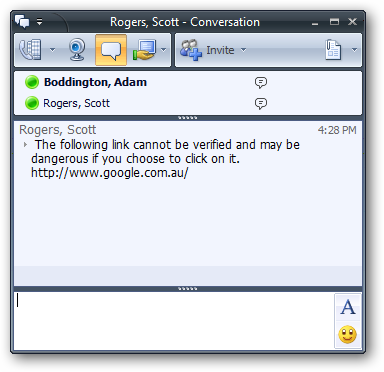 The link isn't clickable! (Despite the warning suggesting it should be.) I'm forever cutting and pasting links into my browser -- an annoying process which sometimes becomes really annoying when I miss a bit of the URL.
Fortunately there's a fix. Here's the PowerShell version (alternatively you could use regedit.exe).
Set-Location HKCU:\Software\Policies\Microsoft\Communicator
Get-ItemProperty .

If you don't see an EnableURL property, create one...
New-ItemProperty . -Name EnableURL -PropertyType DWORD -Value 1

If there is one, update it instead.
Set-ItemProperty . -Name EnableURL -Value 1

Restart Communicator and the links should now be clickable.
This post has more information.